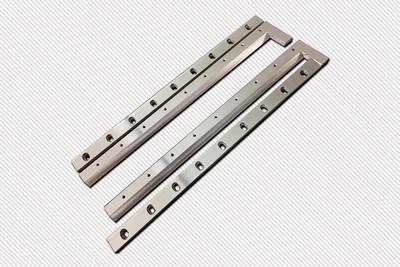 Application
The tissue paper cutting machine knives are used on packaging machines to cut tissue paper such as handkerchief paper and facial tissue.
Material
The tissue paper cutting machine knives are generally made from SKD-11, HSS and other materials, which have good wear resistance and long service life. If you have special needs, please contact us.
Parameters
Hardness of Rockwell: HRC 58-64
Features
High precision that meets all kinds of machines' assembly requirements.
Vacuum heat treatment makes the blades wear-resistant and durable.
Customization information
OEM production according to the requirements of customers' drawings.
Matching machines
W+D, Senning and other machines.
Related Products
paper cutter, industrial machine knives, paper slitter blades